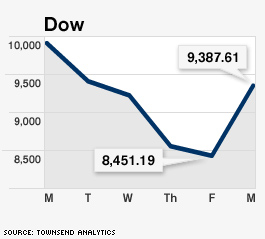 The Dow went up more than 900 points today! This is the biggest gain in the market since 1933. Frankly, while that is a very interesting piece of trivia - I am literally over here thanking my God for doing what HE do and still being in control. You can read the full story from CNN here.

Now, I know that the storm may not be over. But, I also know that HE has given the world an chance to do the right thing. Let's pray that HIS voice has been heard. But, in the meantime - and in between time - I'm giving HIM all the praise for saying "Peace, Be Still"!

Amen! Hallelujah! Thank, You Jesus!

Obliged to you for hearing me,
and now old SjP ain't got nothin' more to say...

~~~ ~~~ ~~~
Technorati ~ ~ Del.iciou.us ~ ~ Digg This! ~ ~ StumbleUpon ~ ~ Twitter ~ ~ My Good Towels ~ ~ FeedBlitz ~ ~ Email SjP