This is what John Lewis said:

"What I am seeing reminds me too much of another destructive period in American history. Sen. McCain and Gov. Palin are sowing the seeds of hatred and division, and there is no need for this hostility in our political discourse. During another period, in the not too distant past, there was a governor of the state of Alabama named George Wallace who also became a presidential candidate. George Wallace never threw a bomb. He never fired a gun, but he created the climate and the conditions that encouraged vicious attacks against innocent Americans who were simply trying to exercise their constitutional rights. Because of this atmosphere of hate, four little girls were killed on Sunday morning when a church was bombed in Birmingham, Alabama."

This is what Lt. Dan and Ice Queen supporters have been heard saying:

"He's a terrorist"
"Kill him"
"He's an Arab"
"He's not one of us"
"I can't vote for that boy"
"He doesn't
share our American values"
"He scares me"
"I won't vote for a black man"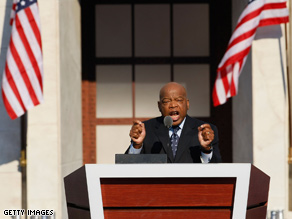 This is what SjP says:

If the shoe fits, Lt. Dan and Ice Queen - you got to wear it! A Sojourner's Salute to Georgia Representative and Civil Rights icon, John Lewis for calling them out!





Obliged to you for hearing me,
and now old

SjP

ain't got

nothin

' more to say...